Space Hippie
With each silhouette weighing in at 25–50% recycled content, Space Hippie is trash transformed. It was our job to show it.

Role: Art Direction & Design Lead
Creative Direction: Aaron Belchere
Art Direction:
Andre Simmons
Animation and Set Photo:
Movie Mountain
Studio Photography & Styling:
Unruh/Jones






Stop motion animation in collaboration with Movie Mountain




Concept

TRASH TRANSFORMED
There is a single objective at the core of the Space Hippie collection: create Nike's lowest carbon footprint shoe. This singular focus, which started in the innovation lab, drove numerous teams to question everything—from source materials and method of make, to how the final product was delivered to a consumer's doorstep.


OUR SOLUTION
The shoes net out between 25-50% of recycled materials by weight. Our job was pretty simple in theory: show how one man's trash can transform into another man's shoe.
We worked with the magical brains at
Movie Mountain
to craft a short, completely hand-made, whimsical stop motion animation showing the raw material transform into a fully formed product.
MY ROLE
This project was unique in that we had a surprisingly long lead time from brief to delivery. Naturally, the work took many twists and turns with rebriefs and total scrapping of concepts.

I worked closely with my teammate, Andre Simmons, on concept and design for the final output. My primary focus was on the in-studio trash sculptures and all design work Andre utilized his diverse shoot experience to focus on the direction for the stop motion and on-set photography—all done remotely, just after stay-at-home issues were ordered.

THE WORKSHOP TABLE
Our inspiration for the stop motion animation and on-set photography environment was the birthplace of the collection: the designers' workspace. The hand-made set was propped with objects from the designers' real tables: a salt lamp, air plant, power drill, and of course, a tie-dyed shirt.
---
Trash Sculptures
ONE MAN'S TRASH
In addition to the primary on-set assets, we created a series of trash sculptures in the shape of the four Space Hippie silhouettes. These were meant to be more artistic, referencing, but not limited to, the raw materials used in manufacturing.
These images allowed us to play with a rather classic Nike advert layout formula paired with the provocative line, "This is Trash."
A number of iterations were created on set during a day spent with the photo and ideation duo,
Unruh/Jones
.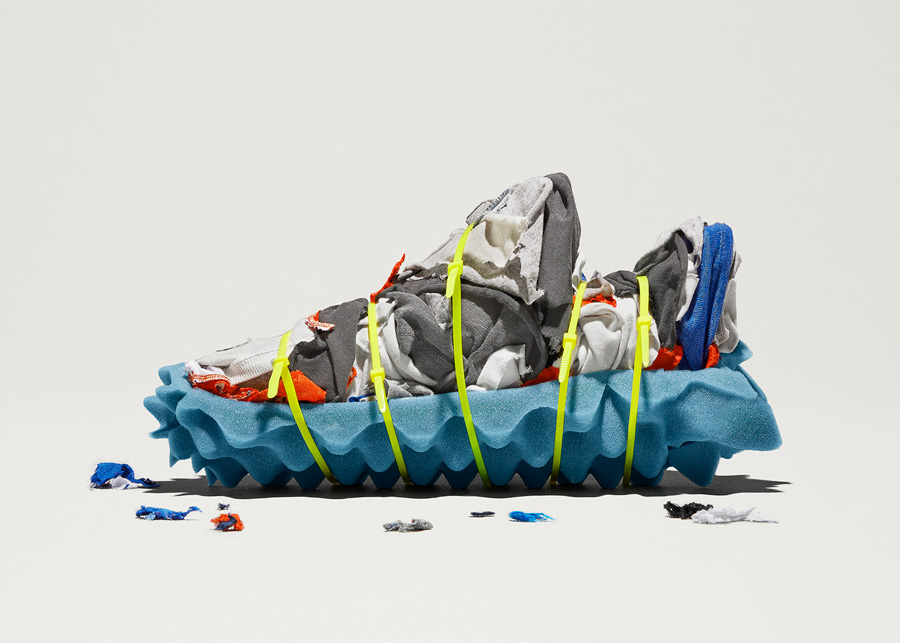 Styling and Photography with Unruh/Jones
---
Slide Animations

TRASH TO TREASURE
We captured product shots at the same time we made the trash sculptures. This allowed us to play with a simple reveal animation for all four shoes that directly explained the headline.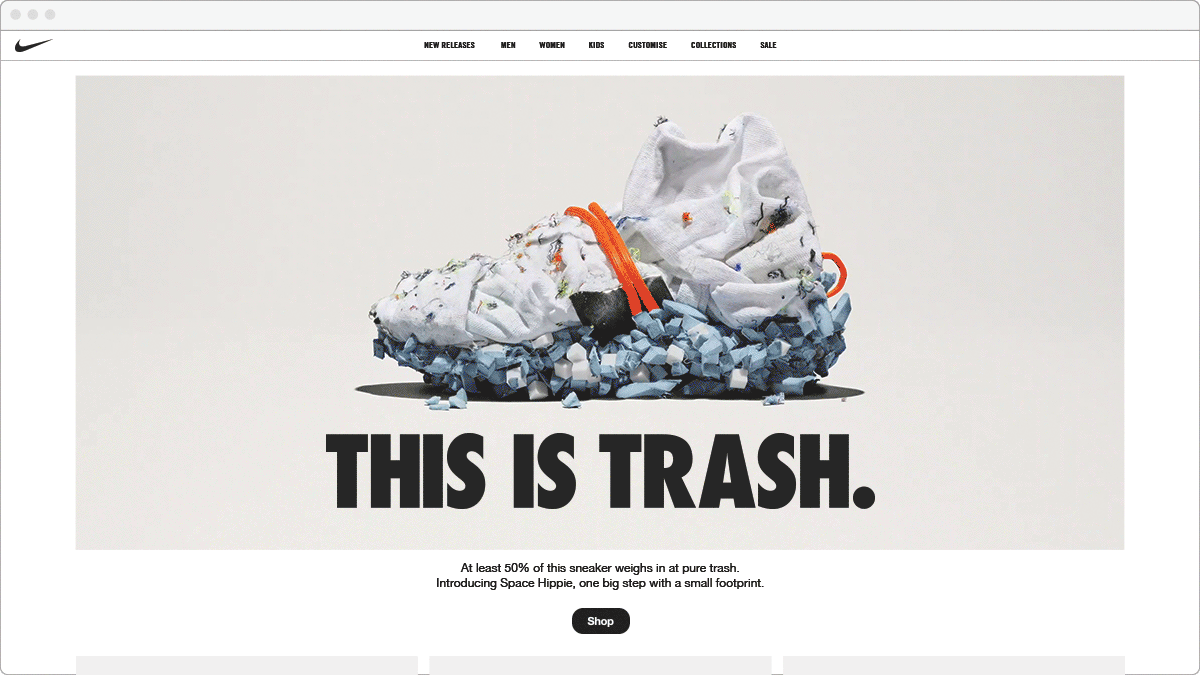 ---