You Can't Stop Us
Serving as the keystone in part of Nike's multi-chapter 2020 brand campaign, You Can't Stop Us celebrates the power of sport to bring people together and inspire hope.
Role: Art Direction & Design Lead
Creative Direction: Aaron Belchere
Agency Partner:
Doubleday & Cartwright
---
Concept

YOU CAN'T STOP US
At the core of the campaign was Wieden + Kennedy's eponymous anthem, a viral spot that was 90 seconds packed with nearly perfect split screen footage of athletes.

Serving as the inspiration for our OOH and digital extension of the work, we explored how to bring the You Can't Stop Us message to life in split imagery.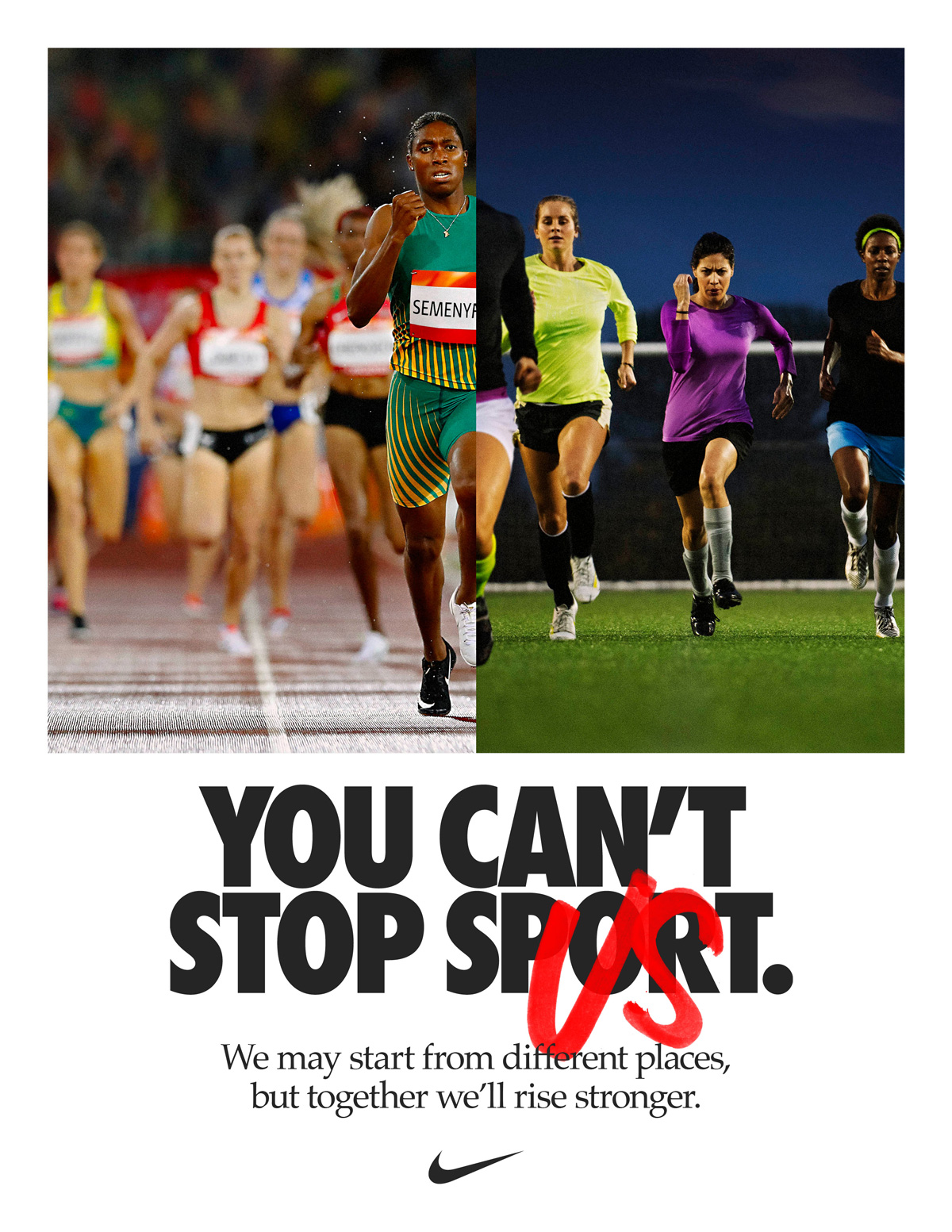 ---
Split Images

A SHARED EXPERIENCE
The primary campaign centered on split images pairing elite and everyday athletes together in a shared composition.

Starting the process in the height of the pandemic, we knew the odds of producing a photoshoot(s) was slim. We tapped the team at Doubleday & Cartwright—creators of the well-known Victory Journal, a beautiful image-forward sports publication—to help out on image sourcing, pairing, and retouch.

We had several important conceptual guardrails that made the process anything but easy. Beyond matching up as perfectly as possible, we pushed for emotional tones of unity, joy, and hope. We wanted to mix sports within the pairings and contrast in-game and everyday shots. Our last goal was to search for everyday athletes that had a story and could create a greater narrative depth within the image pairing.



---
On Social
SUPPORTING THE ANTHEM
With a majority of people stuck inside during the pandemic, social media became a primary conduit for the campaign. Our work supported the viral W+K spot, aiming to add to the story versus take away the spotlight.

We utilized Instagram's carousel feature to reveal the split images. Additional athletes posted a supporting text graphic paired with an image of them making change in their communities.

Nike's Geo teams also took the oppertunity to scale our split image concept with athletes important to their specific region.
KEY ATHLETES
ATHLETE COSIGNS
GEO EXTENSIONS
ATHLETE REACTIONS
We had a few Kaepernick pairings; he chose to post one paired with a nurse kneeling in solidarity with the White Coats for Black Lives protest.
It was amazing to see the responses and excitement of the everyday athletes in images; Nia Snelling, the cheerleader paired with Kaepernick, had my favorite response.
Satou Sabally, German WBNA Rookie, exclaimed the pride she felt that her brothers could see her on a mural in Berlin.
---